Henry Clay Waltz (1843-1877) was assigned as a Methodist missionary and pastor for Cheyenne and Laramie, Wyoming from July 1871 to July 1872 by the Colorado Conference of the Methodist Church. He had previously worked as a pastor in Peru, Indiana, and was married in 1870 to Nellie Finlay Carrott. From approximately 1871-1875 Waltz was a pastor in Pueblo, Colorado. He wrote articles for the Western Christian Advocate regarding his missionary work in Wyoming and Colorado and also commented on women's suffrage in Wyoming. The Advocate was a publication of the Methodist Episcopal Church in the 19th and early 20th centuries as the church made its way westward across the United State.
Additional content for this collection can be found in the "Inventory for collection."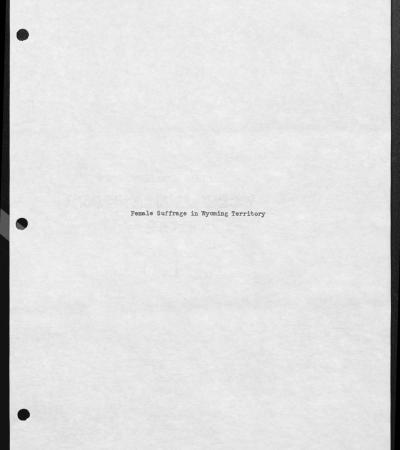 Manuscript of the article "Female Suffrage in Wyoming" by Reverend H. C. Waltz published in the Western Christian Advocate, January 1872
Reverend Waltz writes offers an anti-suffragist view in the Western Christian Advocate, an early publication of the Methodist Episcopal General Conference that served the church's needs as it spread westward.
Resource Identifier
ah00046_103-107
Citation
H.C. Waltz papers, Collection No. 46, Box 1, Folder 8, American Heritage Center, University of Wyoming
Preview