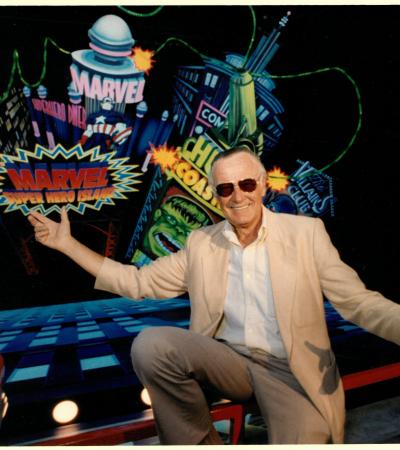 Ever wonder about the origins of superheroes and villains such as Spider-Man, Black Widow, Black Panther, the Avengers, Loki, and the Fantastic Four? Many came from the mind of comic book writer, editor, publisher, and boundary pusher Stan Lee.
Stanley Martin Lieber began his career in the comics industry fetching coffee and taking notes at his uncle's company, Timely Comics, before he began writing scripts. It was the early 1940s and comic books were considered lowbrow publishing. By the 1950s, an anti-comics crusade had begun. It was thought that comics dulled a child's imagination and led to juvenile delinquency by providing blood and gore instead of good literature and fine art. To disguise his identity, Lieber signed his name "Stan Lee." Frustrated, he was ready to give up on the comics industry.
An assignment to create a new superhero team revived his passion and launched a new frontier in the industry. When competitor DC Comics introduced the Justice League of America to great success, Timely knew it had to level up. The result was The Fantastic Four, which Lee co-created with Jack Kirby. The comic debuted in 1961 and ushered a refreshing realism into the medium. The Four were an unconventional group–dysfunctional, quarrelsome and petty, yet a loving family. Their complexity, cutting edge at the time, appealed to older readers rather than a children's audience and a new market was launched. Lee and collaborators continued pushing boundaries in the comics industry by creating more unconventional, flawed superheroes. In 1962 alone, Stan and colleague Steve Ditko created the "Incredible Hulk" and then a teenage superhero, Spider-Man, which further expanded the comic book genre into a teenage readership.
The company name was changed to Marvel Comics in 1967 and the "Marvel Age of Comics" was born. The collaborative approach to creating comics was another company innovation and became known as the "Marvel Method." With the gregarious and at times grandiose "Stan the Man" as the face of Marvel Comics, the company established another precedent by building a sense of community between fans and creators. Together with rival DC Comics, the Marvel Cinematic Universe brought comics out of "lowbrow literature" and into the popular worlds of television, video games and film, and even bringing their roster of superheroes and villains to the silver screen.